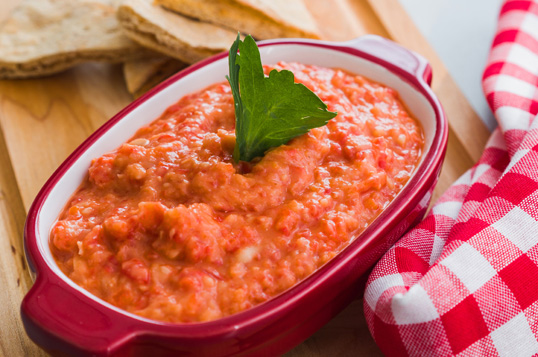 Roasted red pepper hummus

Using roasted red peppers from a can or a jar works just as well. However, make sure they're packed in water and not oil. You can add more nutrition and flavor by adding fresh or pickled jalapenos, roasted poblanos, carrots, red onion and cilantro. This hummus is perfect for a mid-afternoon snack with veggies or baked pita chips. You can also use it as a spread on sandwiches and wraps.
Red bell pepper, cooked, 2 pepper(s)
Canned chickpeas, 2 cup(s), drained and rinsed
Sesame seeds, 2 tbsp(s)
Fresh lemon juice, 1 tbsp(s)
Extra virgin olive oil, 1 tbsp(s)
Parsley, fresh, ¼ cup(s)
Cumin, ground, 1¼ tsp(s)
Onion powder, 1 tsp(s)
Garlic powder, 1 tsp(s)
Kosher salt, 1 tsp(s)
Cayenne pepper, ¼ tsp(s)
Method
Roast the red bell peppers on a grill or in an oven at medium heat until the skin turns dark brown or black on all sides. Remove the skin and the seeds from the peppers and rinse the peppers.
In a food processor, add 1 cup roasted red pepper and the remaining ingredients. Process until the mixture is smooth. Transfer to a dish and serve.
Nutrition facts per serving
Makes 16 servings
Food Groups
V

Vegetables

0.2

F

Fruits

0

C

Carbohydrates

0

PD

Protein/Dairy

0.3

Ft

Fats

0.3

S

Sweets

0
Nutrition Facts
| | |
| --- | --- |
| Calories | 48 |
| Total Fat | 2 g |
| - Saturated Fat | 0.2 g |
| Cholesterol | 0 mg |
| Sodium | 175 mg |
| Total Carbohydrate | 6.3 g |
| - Dietary Fiber | 1.7 g |
| - Total Sugars | 1.5 g |
| -- Added Sugars | 0 g |
| Protein | 1.9 g |