Veggie Hacks: How to Include More Veggies In Your Diet
Fall is a special time of year when seasonal vegetables are bountiful. The many varieties are not only colorful and delicious but are packed with antioxidants and nutrients that can keep you energized all season long. According to the Centers for Disease Control and Prevention (CDC) only nine percent of Americans are eating their recommended daily servings of vegetables. So, the dietitians at the New Mayo Clinic Diet are here to help you up your veggie game with easy and delicious ways to incorporate more veggies into your everyday diet so you can lose weight, feel great, and stay healthy through cold and flu season. Grab your favorite chopping knife as we dish up some clever veggie hacks that will have you eating your veggies — and then some!
Vegetables revisited
It's time to revisit the way we think about vegetables. Gone are the days when "Eat your vegetables!" meant forcing down a bowl of boring boiled broccoli Today, savvy cooks are finding clever — and delicious! — ways to "sneak" those nutrient-packed superfoods into their favorite dishes. Which one will you try first?
Squash Swaps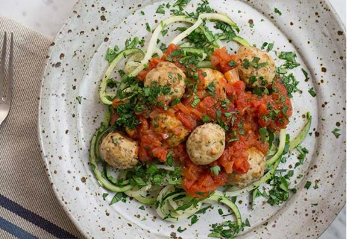 Squash is one fall's most popular vegetables. And lucky for us, it can be prepared as a main dish. Spaghetti squash, for example, is squash that looks and "behaves" like spaghetti! If you haven't already tried it, you're in for a treat. It's like having your pasta without the carbs. Just scoop it out, cook it up and add your favorite sauce or topping. Zucchini noodles—or "zoodles"—are great, too! You can even top them with more veggies like tomato pasta sauce! It's a great veggie hack that is easy and delicious.
Cauliflower Camouflaged
Cauliflower is one of the most versatile and popular cruciferous vegetables—and for good reason. If you're cutting carbs, cauliflower will be your go-to veggie for low-calorie versions of pizza crust, rice, bread, and even mashed potatoes. (Think Thanksgiving side dish!) Check out our Garlic Cauliflower Mashed Potato recipe here.
Satisfying Soups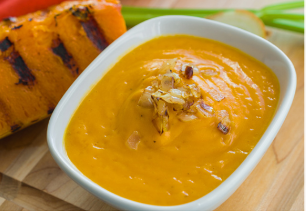 There's nothing like a warm comforting bowl of soup on a chilly night. The only decision you'll have to make is which kind of soup! Whether it's a tasty minestrone soup chock-full with veggies or a smooth and creamy soup made with butternut squash or pumpkin, the combinations are endless. Grab the ladle and enjoy!
Mushroom Madness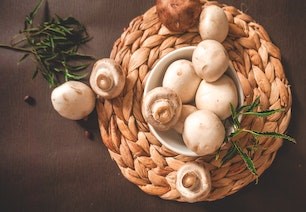 Mushrooms are a wonderful vegetable that not only add moisture and a "meaty" texture to your foods but are low in calories, too. If you're looking to "bulk up" your meat while slimming down your waistline, adding mushrooms is the perfect veggie hack. Try adding mushrooms to your meatballs, meatloaf, burgers,  and even to a hearty Bolognese sauce. No one will ever guess they're in there!
Sweet potato bliss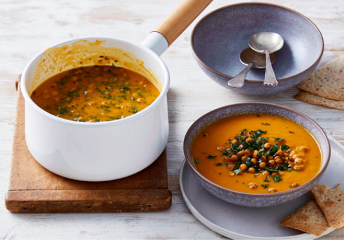 It wouldn't be fall without sweet potatoes. They're also so good—as well as being so good for you — we're keeping them front and center! Whether you love them mashed (another holiday keeper), roasted or even in a soup, these spuds are no duds when it comes to flavor. Check out our roasted sweet potato hash recipe here.
Spinach secrets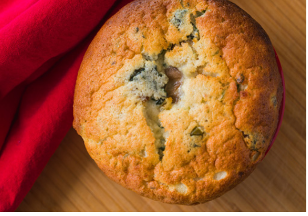 A decadent souffle is the last place you would think to look to find spinach. But voilà! There it is! And perfect for a fall meal. Spinach is so versatile that it can be used in dips, soups, salads, smoothies—and, as you can see—deliciously baked goodness.
Abundance of health benefits
We all know vegetables are good for us. They are packed with key vitamins, minerals, and antioxidants. But what does that mean in terms of your health? Let's put it all in perspective. Here are just some of the benefits of eating your veggies:
Reduces the risk of heart disease and cancer
Helps to maintain a healthy blood pressure
Supports good gut and brain health
Fights inflammation
Supports good bone health
The New Mayo Clinic Diet makes it easy to eat your veggies and stay healthy
Eating your vegetables just became easier—and tastier. Did you know that you can eat an unlimited number of veggies on the New Mayo Clinic Diet? As you learned from this blog, there are several easy and delicious ways to incorporate veggies into your diet. The possibilities are endless when it comes to finding creative veggie hacks of your own!
The New Mayo Clinic Diet's flexible meal plans not only fit into any lifestyle, but they are healthy and easy to plan for. With easy-to-find ingredients that are light on your wallet—combined with quick prep times—you'll be saving money and eating delicious meals while losing weight. Plus, the New Mayo Clinic Diet features a food tracker, so you can keep track of your veggie intake.
 Our team of dietitians has developed six different meal plans which allow you to find and follow an eating style that suits your taste and diet preferences. Wondering what a "day on a plate" looks like? Have a look at a sample of the Original Mayo Clinic Diet meal plan.